Mother's day is about making mom smile so why not make that smile brighter, whiter, and younger with Smilebrilliant.com professional teeth whitening? Did you know that on average a white smile makes us look 10-12 years younger according to a national study administered by the ADA?
From now until May 12 you can purchase smilebrilliant.com at home teeth whitening products at a 20% discount on at home teeth whitening Systems for all budgets this mothers day!
Custom Teeth Whitening Trays and High Strength Carbamide Peroxide Teeth Whitening Gel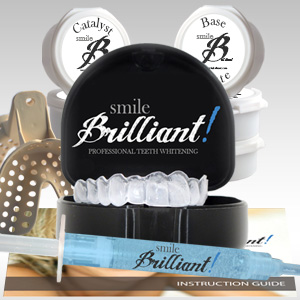 For optimal results buy mom custom fitted teeth whitening trays which are molded to fit your teeth with precision. Our custom teeth whitening trays are identical to those provided to you buy your dentist however at smilebrilliant.com it only cost a fraction of the price and NO DENTAL VISITS!
This particular at home teeth whitening system comes equipped with:
3 sets of dental impression material
2 impression trays
1, 3, 6, or 9 teeth whitening gel syringes (each syringe satisfies 3-4 whitening treatments)
Upper and lower teeth whitening trays
Easy to follow tray creation instructions
30 day money back guarantee
Here's how our custom teeth whitening trays are created:
Step 1:
Order The Kit Online @ Smilebrilliant.com
Step 2:
Take your dental impression
By following the easy to understand instructions you will take impressions of your upper and lower teeth. After impressions are taken you will use the prepaid envelope provided in your kit to mail your impressions back to our dental lab. Our certified dental lab technician we will use your impression to create a mold of your upper and lower teeth from which we will create custom fitted teeth whitening trays.
Step 3:
Receive Your Teeth Whitening Trays
Your custom teeth whitening trays will be created and in rout to your home within 2-7 days of receiving your dental impressions!
Learn more about our teeth whitening tray creation process here!
Save up to 92% on teeth whitening trays!
On average dentists charge $300-$1,000 for custom fitted teeth whitening trays. At smilebrilliant.com you can get the exact same product for as little $79.95. However given mother's day is approaching you can purchase them for $63.96!

At Home LED Teeth Whitening System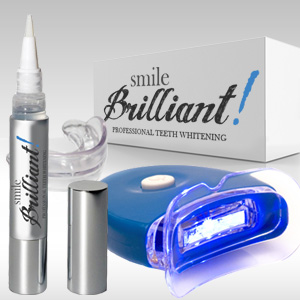 If the custom whitening trays are out of your budget then mom will not be disappointed with our at home LED Teeth Whitening System! It's a perfect fit for those in need of a touchup and is brilliantly simple to use!
Smilebrilliant.com's LED teeth whitening system comes equiped with:
1 LED Teeth Whitening Light
1 teeth whitening pen with brush tip applicator (4 mil of whitneing gel)
1 brush
1 lip protector tray
100% satisfaction gurantee!
Step 1: Brush Teeth
Cleaning the surface of the teeth prior to whitening will allow the gel to come in contact with the stubborn stains un-removable by brushing your teeth.
Cleaning will also help avoid white splotches caused from inconsistent bleaching of the enamels surface.
Step 2: Apply Gel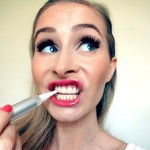 Turn the end of the whitening pen repeatedly until gel begins to excrete from the brush and then apply evenly on the frontal surface of your front upper and lower teeth.
Try and limit the surface area to that which the protective trays cover to limit the amount of gel that comes in contact with tissues of the mouth.
Step 3: Insert Mouth Guard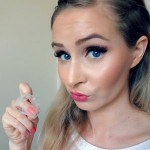 The whitening gel is hydrogen peroxide base which means it will irritate tissues so you want to use the protective trays to reduce contact. Rest assured the gel will NOT harm you and some will likely come in contact with your cheeks and gums, the goal is simply to reduce its contact.
Be sure to latch the two trays together.
Step 4: Insert LED Light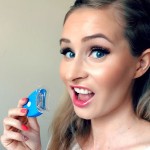 The LED light serves as an accelerator which means it will cause the gel to react quicker.
If you would rather not use the LED light you will still achieve the same level of whiteness; however it is recommended you prolong the treatment if you opt out of the light. Leave the light in mouth for 20-45 minutes and prolong the whitening treatment for a total 30-120 minutes.
Expectations:
1-4 shades whiter
Whitening Duration:
45 minutes – 2 hours daily (1-4 weeks)
Sensitivities: Your teeth or gums may become sensitive. This is common while using products containing peroxide and it is not harmful. In case of increased sensitivity, reduce usage time and/or frequency until this problem stops. Discontinue whitening session if strong pain occurs.

The photos above were provided by blogger Jezz Dallas from from Jezz Dallas Makeup who recently did a review for us and was kind enough to allow me to share this with all of you.