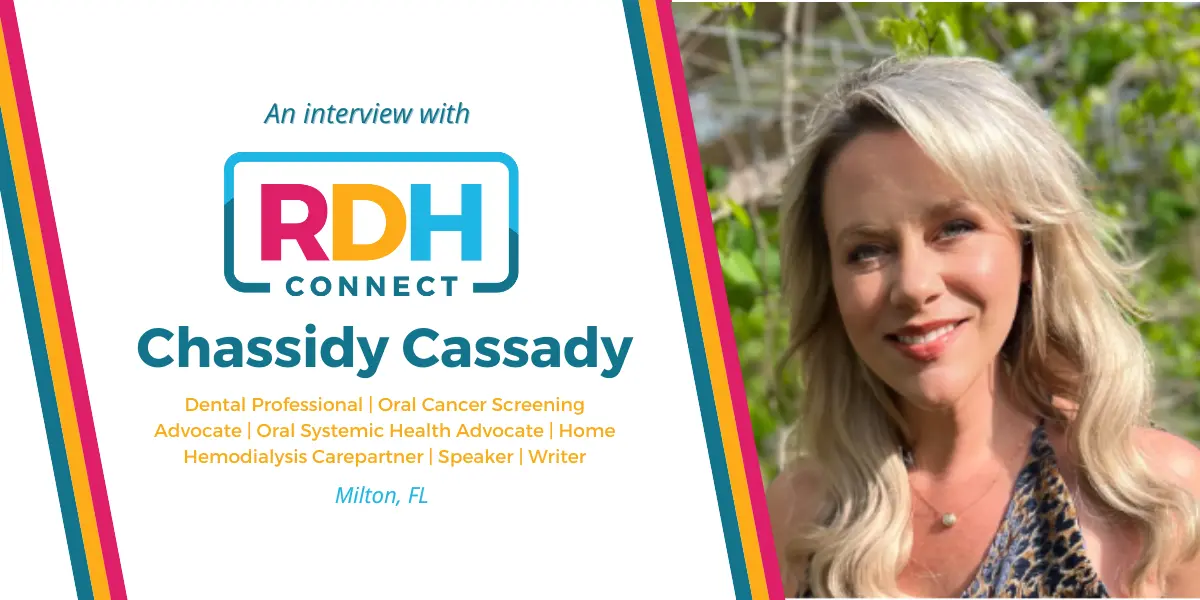 Chassidy's journey from marketing to dental hygiene exemplifies growth and diversity in our profession which continues through ongoing education, professional development, and networking with organizations like RDH Connect.
Chassidy initially graduated with her bachelors degree in marketing however due to the economic recession she was unable to get her dream job and was bored with the one she was currently employed in. She was introduced to the dental field by a friend who felt she would make a great dental assistant. Conveniently soon after she was hired by a dentist who needed a dental assistant. She fell in love with the field and a year later went to dental hygiene school and graduated in 2013. She still practices at the same office that originally hired her as a dental assistant. She recently has decided to work one less clinical day per week to focus on her nonclinical aspirations.
What do you do as a hygienist that is nonclinical?
Although she mainly practices clinically she is also a public speaker who delivers courses on HPV and Oral Cancer. She has an upcoming live in person event at the Florida Dental Hygienists' Annual Conference in Orlando in September. Her course involves her discussing the importance of smoking cessation to help prevent oral cancer. She knows that discussing HPV with patients can seem difficult for some so she helps her listeners to find ways to feel content in delivering this life saving information to their patients.
What aspect of the RDH Connect Community are you most excited about?
Chassidy loves learning from others and mentors within the community showing that hygienists can have diverse fulfilling careers. She wants to be a voice within the community that allows others to see that there are so many opportunities within the industry to grow. She encourages everyone to remember their why as to recognize that it is ok if their why changes throughout their career. She enjoys networking with her colleagues and looks forward to meeting her colleagues in person in upcoming in person conferences.
What next professional accomplishment are you excited for this year?
Although she is excited about speaking at the upcoming Florida Dental Hygienist Annual Conference, she has other projects that she is working on that are motivating her to continue to grow within her profession. Her husband was shot in the line of duty and lost his kidneys in 2010. This led them to go on a healthcare journey of dialysis, transplant, and dealing with the unfortunate event of him losing the transplanted kidney in 2018. They ultimately decided that home hemodialysis was a best fit for his mental health.This process led Chassidy to research and educate herself so as to help be and advocate for her husband with his doctors. She recognizes that many are unaware of all the options concerning dialysis. She wants to help educate professionals on the various treatments available to patients.
What is one piece of advice that you would offer for a future hygienist?
Future hygienists should know that our profession is continuing to grow. We don't have to feel as though we are pigeonholed. When she initially started as a dental hygienist she didn't know where her career would be headed. She had no idea the amount of career growth that would have transpired in this last decade. Always remember your reason as to why you became a hygienist. Continue to educate yourself in various ways and to find your true passion. You don't have to stay in one place. It is ok to change offices or to pivot into other aspects of your career as we are always changing.
What is something that you are especially proud of during your career?
Chassidy is proud that she has continued to push forward. Her husband's personal experiences are a main motivating factor in the work she does now in regards to speaking about oral cancer and her future projects about hemodialysis treatment options. She knows that she will continue to grow in her profession and will continue to help her community by educating them on important healthcare topics that will help promote overall health and wellness. She continues to invest in her career by attending professional development conferences and networking amongst her peers. She is excited to be a RDH Connect member so that she can further connect with like minded individuals.