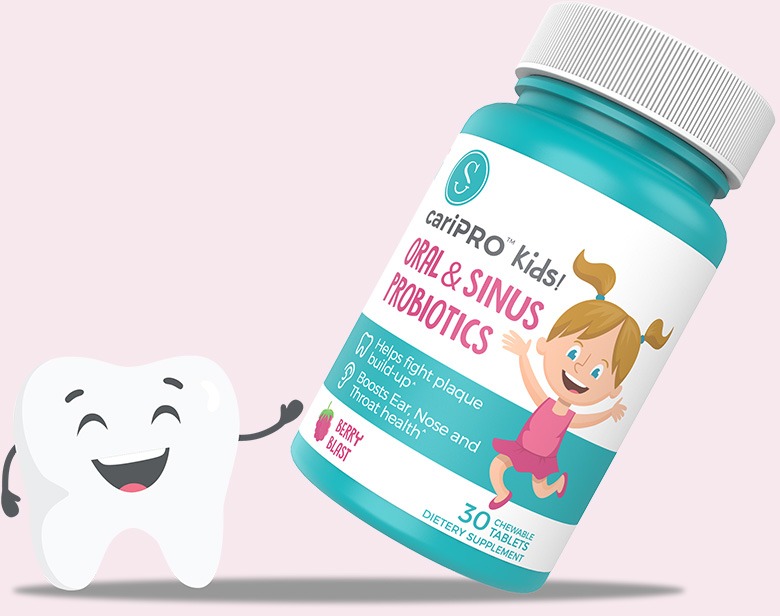 ORAL and SINUS
PROBIOTICS
FOR KIDS!
Delicious one-a-day chewable probiotics
clinically studied to support improved sinus
& oral health in children.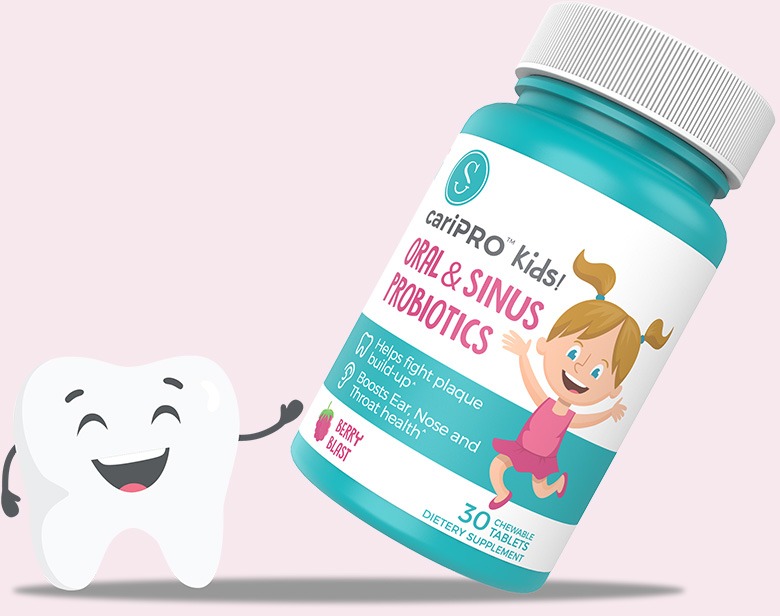 "Boost immunity and oral health the natural way!"
A delicious way to get kids excited about oral care!
Boosts ear, nose and throat health
Helps defend against plaque build-up and bad breath
Clinically studied to improve the oral and respiratory microbiome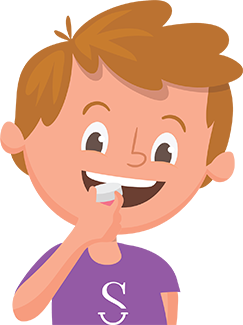 CHOOSE YOUR PACKAGE
Chewable probiotic tablets for oral & sinus health. 3 Billion CFU Guaranteed*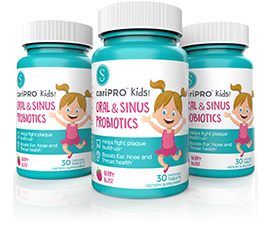 90 Day Supply
original Price: $80
Best Value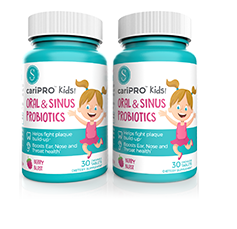 60 Day Supply
original Price: $53
TWIN'S PACKAGE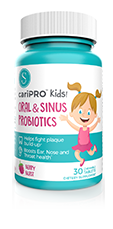 30 Day Supply
original Price: $33
1 MONTH SUPPLY
Learn how microbiome rejuvenation therapy with dental probiotics can help
Adults!
Over 700 species
of both good and bad bacteria
populate your child's mouth all day, every day!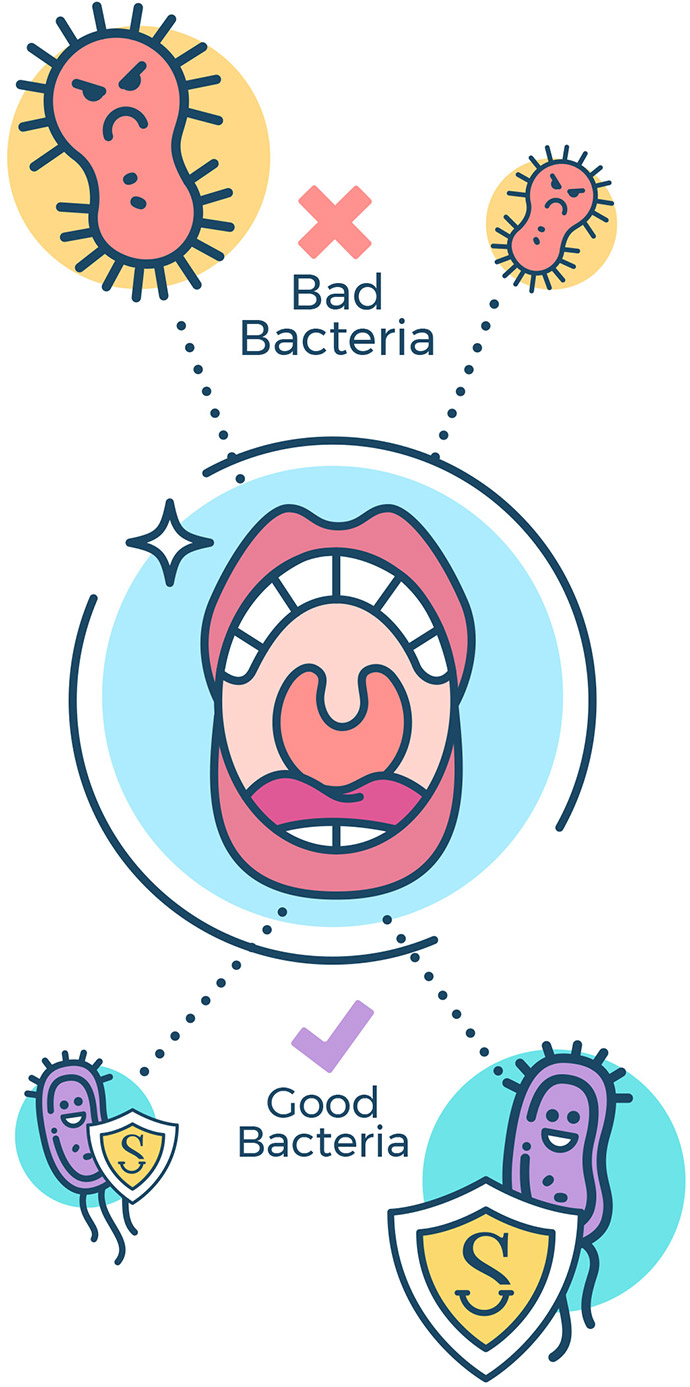 A HEALTHY POPULATION
OF THE GOOD BACTERIA
is the
key
boosting upper-respiratory tract immunities & improving oral health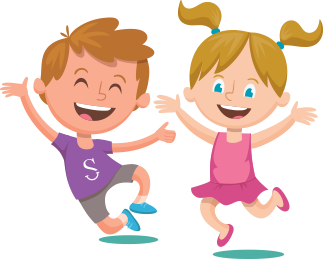 Healthy bacteria in the mouth travel naturally to the sinuses and upper-respiratory tract. It's your child's first line of defense against infection as well as plaque development.
BOOST YOUR CHILD'S MICROBIOME
WITH cariPRO

™

Kids! ORAL

&

SINUS PROBIOTICS
Real science to help fortify oral health & ear/nose/throat immunity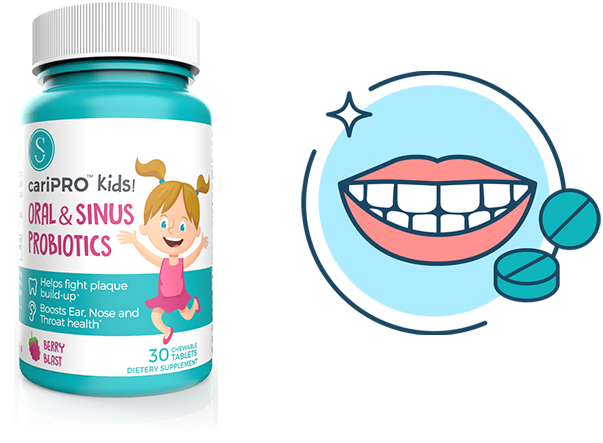 VEGETARIAN

EGG-FREE
SUGAR-FREE

NON-GMO

GLUTEN-FREE
Fortifying your child's microbiome with cariPRO™ Kids! Oral & Sinus Probiotics has been clinically studied to support a healthier mouth and reducing ear, nose and throat infections.
Do you ship outside the United States (international shipments)? What is the Cost?
Yes! We are able to ship to most countries throughout the world. The shipping fee will be different for each country (total fees will show in your shopping cart at checkout.This fee covers 2-way shipping: the cost to ship your tray creation package to you and the cost to ship your completed custom-fitted trays (after our lab has created them) back to you. For select countries, 3-way shipping: shipping tray creation system, pre-paid postage to send your impressions to our lab, and shipping the completed trays to you is covered in the total fee. This will be mentioned in the shipping caption at the time of checkout. If your country is only covered under 2-way shipping, you will be responsible for the cost to ship your dental impressions to us. The cost for this is typically around $10-15 USD (varies by country). We recommend obtaining a tracking number from your post office when you ship your impressions!
Note: We are not responsible for customs fees/import taxes.


TRY IT.

LOVE IT
...or return it
Smile Brilliant's line of cariPRO™ Kids! oral care products are custom-formulated with the latest science and clinical research to support a child's oral microbiome. Each bottle of cariPRO™ Kids! Oral & Sinus Probiotics is guaranteed fresh. Our mission is to improve oral care through real science and innovation. If you are not completely satisfied with your purchase, we'll take it back.
NO STRINGS ATTACHED